AeroForce Technology Original OBD2 Interceptor Gauges and Gauge Pods
Over 100k satisfied customers. AeroForce Technology, Inc. Interceptor OBD2 gauges are the most powerful gauges on the planet. 
Seamlessly integrated into your vehicle using our AeroForce pods to give your vehicle a "from the factory" look.  
Knowlege is Power with the orginial Aeroforce Interceptor Gauges, AeroForce Analogic Gauges and AeroForce Gauge Pods.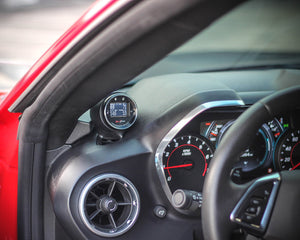 Testimonials
"Can't say enough about this company, and I haven't even received my gauge yet! Their customer support has already been second to none just with getting my order in. Response time is wonderful, and Todd is absolutely great to deal with. Can't wait to get my gauge. Will definitely be referring family and friends!"

Rick W. via FB

"I just recently purchased a dual set on their website and we have been emailing back and forth for quite some time and their response time is impeccable!! Amazing!! I have never seen a company respond back and answer all my questions so quick!! And Todd from aeroforce was very helpful with answering any questions I had. I would highly recommend this company and I will be telling friends/family/strangers about this company"

Sean H. via FB
"Had a problem after install to new GTI. Gauge was lighting up blue but that's it? Sent it in to review and possibly repair....Only a week later it was back to me repaired like new. SoE of the best service and support I have ever had! It's rare to find a company that really stands behind its products. Will definitely be using them again in future. VW/Audi 15/16 201 Interceptor With uncertain times, it's awesome to know AEROFORCE TECHNOLOGY certainly stands behind it's products!!

Rob P. via FB
"Great Scan Gauge and Customer Support. Been Using them since 2001 In my GTP and now in my Mustang. Pat has always responded to any questions or issues I have had in a very timely manner. Highly Recommend.."

Jeff W. via FB
"Have had at least one of their gauges in my cars for the past 12 years, I don't know how I'd get along without one now. So much useful functionality and so easy to install and use. I recently had to send in a 10 year old gauge for a new display. I expected to just have to buy another after all this time but they were able to replace the display at a nominal fee, works like new again. Great customer service!"

Jim B. via FB
AeroForce Technology Quality
Made in America
AeroForce Technology, Inc. is made in America developed by 2 ex-NASA Engineers. Knowledge is Power with AeroForce Gauges and Pods.
SEMA Member
AeroForce Technology, Inc. is a long time memeber of SEMA
Look for the Genuine AeroForce Logo
When your the best you are often immidated. To the the top quality be sure to look for the AeroForce Logo and packaging. If in doubt give us a call and we can let you know if it's Genuine AeroForce.